Alumni News
Keep up to date on the impact and achievements of your fellow classmates with alumni news. The Law School sends a quarterly alumni email newsletter, including alumni profiles, feature stories and news, development updates, and upcoming events, to our subscribers and the news feed below provides additional news stories.
If you don't currently receive the alumni newsletter, contact us as law-alumni@uic.edu. We can add you to the mailing list or update your contact information.
Alumni Newsletter
The Law School has kept our graduates up to date for decades on current happenings by publishing an alumni newsletter – both in hard copy and digital formats. Lately, we've undertaken a project to make historical publications available online, so you can catch up on news you missed or read the stories that contributed to our rich history. Be on the lookout for expanded archives in the months to come, and if you have information or issues yet to appear, let us know!
As best we can tell, the first newsletters ran in the years before (and continued publication through) World War II as the Alumni Docket. Unfortunately records are minimal until 1953 when alumni news was published under the BriefCase masthead (which should sound familiar to graduates of the 90s and early 21st Century). In the mid-1970s, the newsletter was published under the title of The John Marshall Law School Alumni News—a name that remained in use, throughout various design changes, until the 1990s. After a few other short-lived titles, the newsletter returned to its roots as BriefCase before ceasing publication in hard copy. Today, our alumni newsletter arrives conveniently by email, so you can stay on top of the news, events and opportunities to grow and expand your professional skills and network.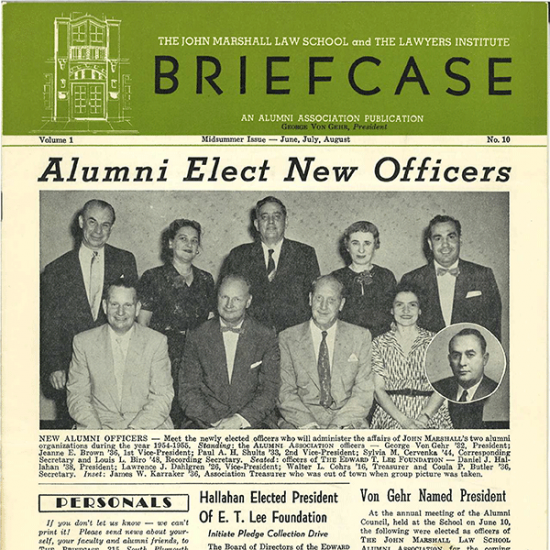 Law School Alumni Newsletter Archives
In our effort to preserve and promote the Law School's long history of alumni success and impact, we've combed through the Law School's archives and unearthed treasures unseen for decades! Each issue in this collection presents not only its own valuable history but also a snapshot of the past. Enjoy!
Visit the Archives
Class Notes
We just can't do it without you, literally! Keep us in the loop when you accomplish big things, and we'll make sure that your former classmates and other graduates hear the good news by promoting your success in the Law School's Class Notes section of the News website. For your convenience, you can find the most recent reports below, and you can also access the full list of Class Notes by using the link at the bottom of our alumni email newsletter.
Share Your News with Us!
Send your new job or promotion announcements, honors and awards, and other recognitions to law-alumni@uic.edu. Don't forget to include a picture! Submissions are published below by the month in which they are received.