Hall of Distinction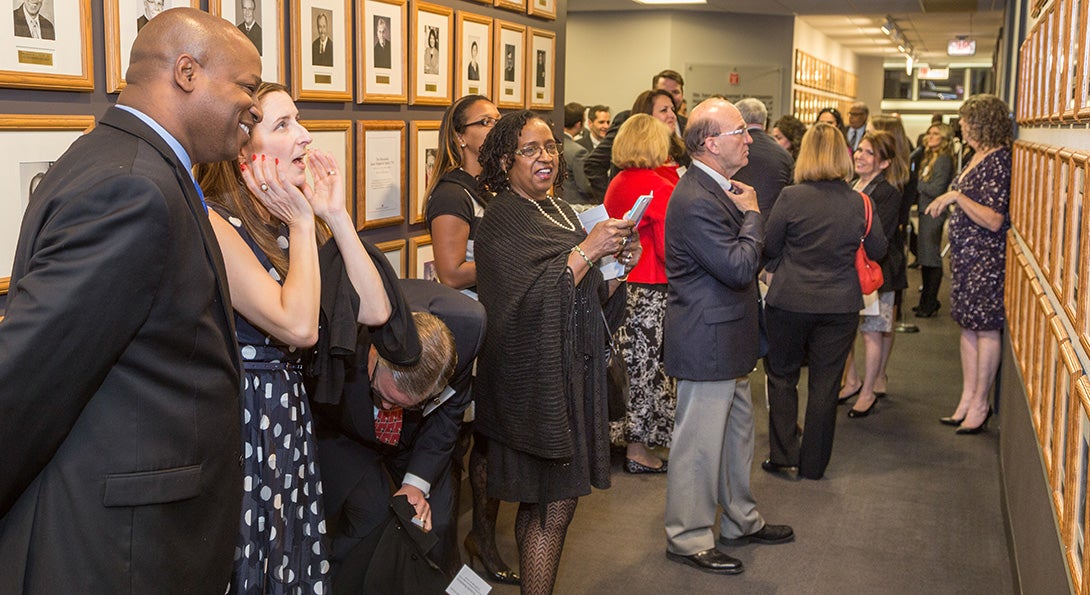 Honoring our graduates who have attained the prestigious level of jurist or elected public official, the Hall of Distinction is our way of celebrating the accomplishments of these impressive individuals and demonstrating the impact their professional contributions have had on the legal profession and the community.
The Hall of Distinction was formerly located on the first floor of the Law School for decades. During the significant renovations of the 2010s, the photographs displayed in the walkway between the 315 S. Plymouth Building and what is now the 300 S. State Street Building lobby were stored to prevent accidental damage. After completion of the renovations, the inductee photographs were rehung on the State Street Building's Fourth Floor in the hallways leading the Arthur Goldberg Memorial Courtroom. The migration was made in part to account for the 2015 class of inductees, which totaled 65 members.
While the bulk of the inductees now reside on the Fourth Floor, visitors to the Law School will still find a smaller collection of inductees were reinstalled in the former location. These individuals represent members of the Hall of Distinction who also served as presidents of the Law School's Alumni Association. We are indebted to them for their tireless leadership and dedication.
The Hall of Distinction showcases photos of graduates who have either ascended to the bench or are elected to public office. If you qualify, please send us a 5" x 7" black-and-white photo (or digital equivalent at 300 DPI) of yourself.
Send photos to:
Office of Alumni Relations & Development
University of Illinois Chicago School of Law
300 S. State Street
Chicago, IL 60604
Phone: (312) 360-2663
law-alumni@uic.edu
Hall of Distinction Inductees (by Induction Year) Heading link
2022
Hon. Amee Alonso (JD 1994)
Hon. Frank Andreou (JD 1995)
Hon. Laura Ayala-Gonzalez (JD 2002)
Hon. Carla E. Barnes (JD 1998)
Hon. Paul Bauer (JD 1992)
Hon. Elizabeth Ciaccia-Lezza (JD 2000)
Hon. Patricia Cornell (JD 2003)
Hon. Araceli de la Cruz (JD 2001)
Hon. Gerad Dougvillo (JD 2008)
Hon. Carl L. Evans Jr. (JD 1993)
Hon. Michael Fleming (JD 1984)
Hon. Renee Goble (JD 2005)
Hon. Joy Gossman (JD 1988)
Hon. Lindsay Huge (LLM 2014)
Hon. Christopher Kennedy (JD 1994)
Hon. Clayton Lindsey (JD 1984)
Hon. Suzanne C. Mangiamele (JD 1983)
Hon. Kelly Marie McCarthy (JD 2001)
Hon. Jacquelyn Melius (JD 2000)
Hon. Regina Mescall (JD 2002)
Hon. Eric Miller (JD 2004)
Hon. Michael Nerheim (JD 2000)
Hon. Margaret O'Connell (JD 1991)
Hon. J. Scott Odorisi (JD 1993)
Hon. Jill Rose Quinn (JD 1983)
Hon. Terrence V. Sharkey (JD 1983)
Hon. Maura Slattery Boyle (JD 1993)
Hon. Scott Sliwinski (JD 2003)
Hon. Christ Stanley Stacey (JD 1982)
Hon. Ryan A. Swift (JD 2006)
Hon. Andreana Turano (JD 1993)
Hon. Tammy Wendt (JD 2000)
Hon. Gregory Wojkowski (JD 1979)
2019
Hon. Ronald Anthony Barch (JD 1992)
Hon. Kevin T. Busch (JD 1985)
Hon. George Louis Canellis Jr. (JD 1996)
Hon. Matthew James Carmody (JD 1982)
Hon. Kevin Patrick Cunningham (JD 1992)
Hon. Colleen Reardon Daly (JD 1996)
Hon. Ronald J. Foster Jr. (JD 1997)
Hon. Kathaleen Theresa Lanahan (JD 1993)
Hon. Paul Ambrose Marchese (JD 1998)
Sen. Robert F. Martwick Jr. (JD 1996)
Hon. James Francis McCluskey (LLM 1988)
Hon. Paul B. Novak (JD 1996)
Hon. Kathleen Anne Panozzo (JD 1989)
Hon. Nichole Catina Patton (JD 1996)
Hon. James P. Pieczonka (JD 1983)
Hon. Ketki Shroff Steffen (JD 1991)
Hon. George D. Strickland (JD 1983)
2017
Hon. James L. Allegretti (JD 1978)
Hon. Michael Francis Carroll (JD 1995)
Hon. Vincenzo J. Chimera (JD 1984)
Hon. Jessica Colon-Sayre (JD 2001/LLM 2002)
Hon. Catherine Ann Delahunt (JD 1986)
Hon. Jason A. Helland (JD 2003)
Hon. Cecilia Anne Horan (JD 1997)
Hon. Doretha Renee Jackson (JD 2005/LLM 2009)
Hon. John Joseph Kelly Sr. (JD 1915)
Hon. Edward J. King (JD 1981)
Hon. Robert D. Kuzas (JD 1988)
Hon. Joseph Harold Lorintz (JD 1982)
Hon. William Owen Mays (JD 1981)
Hon. Clare Elizabeth McWilliams (JD 1988)
Hon. Ruth Miller (JD 1983)
Hon. Brendan A. O'Brien (JD 1996)
Hon. Donald J. O'Meara (JD 1991)
Hon. Nicholas Elias Panomitros (JD 2010/LLM 2011)
Hon. John S. Pope (JD 1975/LLM 1984)
Hon. Brian Patrick Powers (JD 1992)
Hon. Patrick Joseph Powers (JD 1987)
Hon. Joanne F. Rosado (JD 2001)
Hon. Stephanie D. Saltouros (JD 1996)
2015
Hon. John Christopher Anderson (JD 1999)
Hon. Jeffrey M. Arnold (JD 1968)
Sen. Cheryl Lynn Axley (JD 1984)
Hon. Robert V. Baker (JD 1968)
Hon. Jennifer Hartmann Bauknecht (JD 1994)
Hon. Robert Kent Beaderstadt (JD 1988)
Rep. Kelly McGuire Burke (JD 1992)
Hon. Diane Gordon Cannon (JD 1981)
Hon. Gloria Chevere (JD 1981)
Sen. Michael Gregory Connelly (JD 1989)
Hon. Dennis Brian Doyle (JD 1980)
Hon. Laurence J. Dunford (JD 1971)
Hon. Daniel Allen Fish (JD 1981)
Hon. Steven James Fruth (JD 1976)
Hon. Paul Michael Fullerton (JD 1990)
Hon. Mark Raymond Gerhardt (JD 1995)
Hon. Joyce M. Murphy Gorman (JD 1995)
Hon. Gordon E. Graham (JD 1977)
Hon. Anjana Molina Jain Hansen (JD 1997)
Sen. Michael Edward Hastings (JD 2014)
Hon. John L. Hauptman (JD 1978)
Hon. Troy David Holland (JD 1994)
Hon. Amy C. Hoogasian (JD 1994)
Hon. Michael J. Kane (JD 1974)
Hon. Jeffrey Marc Kelly (JD 2000)
Hon. Victoria McKay Kennison (JD 1996)
Rep. Darin McKay LaHood (JD 1997)
Hon. Dorian Barnett Lasaine (JD 1977)
Hon. David William Lewis (JD 1978)
Hon. Neil Joseph Linehan JD1983
Hon. Freddrenna Margaret Lyle (JD 1980)
Hon. William Joseph Mackowiak (JD 1986)
Hon. James Marchewski (JD 1974)
Hon. Edward Harold Marsalek (JD 1953)
Hon. James Robert Marschewski (JD 1974)
Hon. Timothy Joseph McJoynt (JD 1977)
Hon. Daniel Edward Moore (JD 1981)
Sen. Matthew James Murphy (JD 1996)
Hon. Patrick J. O'Shea (JD 1979)
Hon. Roy C. Pechous (JD 1967)
Hon. Raymond E. Rossi (JD 1980)
Hon. Evelyn R. Sanguinetti (JD 1998)
Hon. Beatriz Santiago (JD 1996)
Hon. Glenn Raymond Schorsch (JD 1988)
Hon. Richard D. Schwind (JD 1978)
Hon. Robert B. Spence (JD 1980)
Hon. Mariyana Theodora Spyropoulos (JD 1996)
Hon. James R. Standard (JD 1969)
Hon. Mark R. Stanley (JD 1982)
Hon. Timothy J. Steadman (JD 1981)
Ald. Patrick Daley Thompson (JD 1999)
Hon. Marilee Viola (JD 1988)
Rep. Emanuel Christopher Welch (JD 1997)
Hon. Leonard James Wojtecki (JD 1976)
Hon. William A. Yoder (JD 1985)
Rep. Michael John Zalewski (JD 2003)
2014
Hon. James T. Balog (JD 1970)
Hon. Donald W. Banner (LLM 1958)
Hon. Michael Ian Bender (JD 1991/LLM 2005)
Hon. Everette A. Braden (JD 1961)
Hon. Michael E. Brandt (JD 1976)
Hon. Philip J. Carey (JD 1949)
Hon. Raymond Arthur Cavanaugh (JD 1990)
Hon. Stephen M. Cohen (JD 1981)
Hon. John Wayne Cox Jr. (JD 1975)
Hon. Kimberly Stanfill Cromer (JD 1997)
Hon. William M. Daley (JD 1975)
Hon. Anna Demacopoulos (JD 1985)
Rep. James Brian Durkin (JD 1988)
Hon. David A. Erickson (JD 1976)
Hon. Timothy C. Evans (JD 1969)
Hon. Millard Scott Everhart (JD 1977)
Hon. Thomas R. Fitzgerald (JD 1968)
Hon. Celia G. Gamrath (JD 1994)
Hon. Ronald Joseph Gerts (JD 1977)
Hon. Gilbert J. Grossi (JD 1977)
Hon. Deborah J. Gubin (JD 1975)
Hon. James L. Harris (JD 1950)
Hon. Russell W. Hartigan (JD 1975)
Hon. Jacques F. Heilingoetter Sr. (JD 1951)
Hon. Robert Wesley Johnson (JD 1970)
Hon. Daniel Joseph Kelley (JD 1980)
Hon. Anthony Christ Kyriakopoulos (JD 1989)
Hon. Pamela Mariam Leeming (JD 1990)
Hon. Michael T. Mason (JD 1977)
Capt. Michael Eugene McDonald (JD 1987)
Hon. Colleen McSweeney Moore (JD 1982)
Hon. Clifford L. Meacham (JD 1977)
Rev. Thomas Joseph Mescall (JD 1973)
Hon. John Emmett Morrissey (JD 1974)
Hon. Thomas William Murphy (JD 1979)
Hon. Michael J. Murphy (JD 1971)
Hon. Charles Norgle (JD 1969)
Hon. Michael Frederick O'Brien (JD 1963)
Sen. Patrick J. O'Malley (JD 1979)
Hon. Denise M. O'Malley (JD 1981)
Hon. Frank Orlando (JD 1953)
Hon. Daniel Lawrence Peters (JD 1991)
Hon. William E. Peterson (JD 1950)
Hon. William Michael Phelan (JD 1966)
Hon. Albert Sylvester Porter (JD 1962)
Hon. Michael James Powers (JD 1987)
Hon. Thomas R. Rakowski (JD 1970)
Hon. Lonnie Marcus Randolph (JD 1978)
Hon. Richard Donald Russo (JD 1978)
Hon. James J. Ryan (JD 1992)
Hon. George E. Sangmeister (JD 1960)
Hon. Regina A. Scannicchio (JD 1988)
Hon. Edward Dewitt Smith (JD 1974)
Hon. Robert J. Smith (JD 1978)
Hon. James Fitzgerald Smith (JD 1975)
Hon. Michael Thomas Sullivan (LLM 1972)
Hon. Thomas R. Sumner (JD 1977)
Hon. Raymond L. Terrell (JD 1951)
Hon. Peter John Vilkelis (JD 1980)
Hon. Daniel Scott Weber (JD 1978)
Hon. William H. Weir (JD 1977)
Hon. Donald Larry Wennlund (JD 1968)
Hon. Walter Williams (JD 1970)
Hon. William Herbert Wise (JD 1965)
Hon. Patrick Mount Young (JD 1976)
Hon. James Albert Zafiratos (JD 1981)
Hon. James A. Zafiratos (JD1947/LLM 1948)
2010
Hon. Manuel Barbosa (JD 1977)
Hon. Robert P. Brumund (JD 1971)
Hon. Jillian Marie Cerone-Marisie (JD 1990)
Hon. Shannon M. Cobe (JD 1980)
Hon. Mark Steven Goodwin (JD 1987)
Hon. Rosemary Grant Higgins (JD 1985)
Hon. Geary W. Kull (JD 1974)
Hon. Timothy M. Lucas (JD 1981)
Hon. Carl McCormick (JD 1963)
Hon. Jorge Luis Ortiz (JD 1989)
Hon. Bernard J. Sarley (JD 1981)
Hon. George Francis Scully Jr. (JD 1981)
Hon. Domenica A. Stephenson (JD 1987)
Ald. Bernard L. Stone (JD 1952)
Hon. Jay William Ukena (JD 1979)
2009
Hon. Dinah Lennon Archambeault (JD 1988)
Hon. Patrice Munzel Ball-Reed (JD 1984)
Hon. Mark Monroe Boie (JD 1997)
Hon. Michael Joseph Burke III (JD 1984)
Hon. Daniel J. Bute (JD 1977)
Hon. Peggy Chiampas (JD 1989)
Hon. Laguina Clay-Herron (JD 1992)
Hon. Robert Burton Coonin (JD 1974)
Hon. Nicholas Geanopoulos (JD 1982)
Hon. Pamela Hughes Gillespie (JD 1986)
Hon. William Edward Gomolinski (JD 1986)
Hon. Ted Joseph Hamer (JD 1981)
Hon. Dana Roy McReynolds (JD 1976)
Hon. Timothy Patrick Murphy (JD 1984)
Hon. Carla Alessio Policandriotes (JD 1987)
Hon. Anita Rivkin-Carothers (JD 1985)
Hon. David Paul Sterba (JD 1984)
Rep. Andre Martin Thapedi (JD 1996)
Hon. Kenneth John Wadas (JD 1975)
2008
Hon. Thomas F. Carmody Jr. (JD 1976)
Hon. Peter Colby Cavanagh (JD 1997)
Franco Anthony Coladipietro (JD 1993)
Hon. Mathias William Delort (JD 1985)
Hon. Sheldon Arnold Harris (JD 1966)
Hon. Benedict J. Ori (JD 1968)
Hon. Lance Raymond Peterson (JD 1993)
Hon. Angela Munari Petrone (JD 1984)
Hon. Sandra L. Pomrenze (JD 1977)
Hon. Jesse Gregory Reyes (JD 1982)
Hon. Patrick Joseph Walsh (JD 1985)
2007
Hon. Cheryl D. Cesario (JD 1981)
Hon. Peter A. Felice (JD 1976)
Hon. James P. Flannery Jr. (JD 1976)
Hon. Thomas Edward Nowinski (JD 1976/LLM 1983)
Hon. Frank G. Zelezinski (JD 1983)
2006
Hon. Norbert Justin Goetten (JD 1967)
Hon. Casandra Lewis (JD 1991)
Hon. Anthony J. Peraica (JD 1983)
2005
Hon. Dennis J. Burke (JD 1975)
Hon. Careen Marie Gordon (JD 1998)
Hon. Gerald James Rafferty (JD 1978)
Sen. Ira Isaac Silverstein (JD 1985)
Hon. Daniel August Traver (JD 1975)
Hon. Huei-Ju Tsai (LLM 2005)
2004
Hon. William Erwin Poncin (JD 1980)
Hon. Guangliang Zhang (LLM 2001)
2003
Hon. John Thomas Doody Jr. (JD 1974)
Hon. Paula A. Gomora (JD 1987)
Hon. Jeffrey Arleigh Harkin (JD 1995)
Hon. Marcella C. Lipinski (JD 1980)
Hon. Paul Victor Malloy (JD 1985)
Hon. Kenneth Moy (JD 1961)
Hon. Judith Carol Rice (JD 1988)
Hon. Barbara Ann Riley (JD 1985)
Hon. James G. Riley (JD 1982)
Hon. Daniel A. Riley (JD 1975)
Hon. James Edward Shadid (JD 1983)
2001
Hon. Allen M. Anderson (JD 1972)
Hon. James R. Edwards (JD 1958)
Hon. Charles Harlan Frank (JD 1977)
Hon. Donald C. Hudson (JD 1975)
Hon. John B. Huschen (JD 1980)
Hon. Raymond L. Jagielski (JD 1981)
Hon. Cheryl Johnson (JD 1983)
Hon. Michael Joseph Kick (JD 1985)
Hon. John Daniel Koehn (JD 1967)
Hon. Thomas J. Ortbal (JD 1978)
Hon. James E. Padish (JD 1981)
Hon. Edmund Ponce de Leon (JD 1984)
Hon. Joan Aquino Pucillo (JD 1968)
Hon. Nancy Drew Sheehan (JD 1983)
Hon. Randolph R. Spires (JD 1977)
2000
Hon. Richard A. Aguirre (JD 1972)
Hon. Ward S. Arnold II (JD 1973)
Hon. Herbert F. Auw (JD 1937)
Hon. Paul Lawrence Backman (JD 1975)
Hon. Peter S. Bakakos (JD 1951)
Hon. Charles I. Barish (JD 1956)
Hon. Kenneth Leroy Bath (JD 1968)
Hon. Raymond Jeffrey Bayster (JD 1985)
Hon. Marie Bellamy Johnson (JD 1947)
Hon. Gerald Charles Bender (JD 1968)
Hon. Joseph E. Birkett (JD 1981)
Hon. John J. Bowman (JD 1959)
Hon. Leonard Brody (JD 1947/LLM 1948)
Hon. Carolyn A. Brown (JD 1978)
Hon. Frederic S. Carr Jr. (JD 1987)
Hon. Paul G. Ceaser (JD 1934)
Hon. John F. Cirricione (JD 1951)
Hon. John R. Clerkin (JD 1976)
Hon. Rosemary Collins (JD 1980)
Hon. Doris A. Coonrod (JD 1958)
Hon. Donald Clair Courson (JD 1970)
Hon. Robert L. Craig (JD 1973)
Hon. Joy V. Cunningham (JD 1982)
Rep. Lee Albert Daniels (JD 1967)
Hon. Henry Xerxes Dietch (JD 1937)
Hon. Laverne A. Dixon (JD 1935)
Hon. James R. Dooley (JD 1950)
Hon. Jennifer Duncan-Brice (JD 1976)
Hon. Wiley W. Edmondson (JD 1975)
Hon. David A. Englund (JD 1977)
Hon. Saul Arthur Epton (JD 1932)
Hon. Thomas William Ewing (JD 1968)
Hon. W. Patrick Falvey (JD 1975)
Hon. Kathy M. Flanagan (JD 1979)
Hon. Philip A. Fleischman (JD 1935)
Hon. Patrick J. Fleming (JD 1956)
Hon. Fred L. Foreman (JD 1974)
Hon. Warren G. Fox (JD 1956)
Hon. Charles E. Freeman (JD 1962)
Hon. Michael John Fritz (JD 1976)
Hon. Sheldon Calvin Garber (JD 1964)
Hon. Jerome Garoon (JD 1943)
Hon. Joseph R. Gill (JD 1951)
Hon. Daniel Thomas Gillespie (JD 1978)
Hon. Leonard R. Grazian (JD 1950)
Hon. Gerald Frank Grubb (JD 1975)
Hon. Susan Ruscitti Grussel (JD 1979)
Hon. Catherine M. Haberkorn (JD 1981)
Hon. Michael Stuart Hacker (JD 1965)
Hon. Michael Joseph Haubner (JD 1981)
Hon. Marsha J. Hayes (JD 1985)
Hon. Carl F. J. Henninger (JD 1959)
Hon. James John Heyda (JD 1966)
Hon. Thomas E. Hoffman (JD 1971)
Hon. Leo Ellwood Holt (JD 1959)
Hon. Jack K. Hoogasian (JD 1956)
Hon. Thomas Edmund Hornsby (JD 1964)
Hon. Eddie C. Johnson (JD 1951)
Hon. Glenn T. Johnson (JD 1949/LLM 1950)
Hon. Edward R. Jordan (JD 1972)
Hon. Themis N. Karnezis (JD 1970)
Hon. Felix Arthur Kaul (JD 1944)
Hon. Michael Patrick Kiley (JD 1977)
Hon. Herman Knell (JD 1947)
Hon. Anthony John Kogut (JD 1944)
Hon. Edward W. Kowal (JD 1951)
Hon. Lambros J. Kutrubis (JD 1973)
Hon. Patrick N. Lawler (JD 1974)
Hon. Rodney B. Lechwar (JD 1973)
Hon. James B. Linn (JD 1977)
Hon. Daniel Michael Locallo (JD 1977)
Hon. Emanuel Logalbo Jr. (JD 1972)
Hon. Gay-Lloyd Lott (JD 1964)
Hon. Joseph Edward Maker (JD 1935/LLM 1946)
Hon. Blanche Marie Manning (JD 1967)
Hon. Samuel C. Maragos (JD 1948)
Hon. Wendell P. Marbly (JD 1950)
Hon. Robert Louis Massey (JD 1947/LLM 1948)
Hon. Joseph Walter Mioduski (JD 1943)
Hon. Daniel Richard Miranda (JD 1972)
Hon. Dennis Gene Montabon (JD 1972)
Hon. Don A. Moore (JD 1950)
Hon. Loretta Hall Morgan (JD 1976)
Hon. Margaret Jean Mullen (JD 1980)
Hon. Jeffrey W. O'Connor (JD 1974)
Hon. Anthony M. Peccarelli (JD 1959)
Hon. William R. Penn (JD 1951)
Hon. Edward F. Petka (JD 1971)
Hon. Frank R. Petrone (JD 1949)
Hon. Nicholas T. Pomaro (JD 1964)
Hon. Michael Joseph Pope (JD 1974)
Hon. Dennis J. Porter (JD 1974)
Hon. John Robert Provost (JD 1992)
Hon. Thomas Laverne Pullen (JD 1968)
Hon. Robert James Quinn (JD 1983)
Hon. James M. Radcliffe II (JD 1977)
Hon. Sheldon Wilson Reagan (JD 1966)
Hon. Leroy L. Rechenmacher (JD 1941)
Hon. D. Adolphus Rivers (JD 1951)
Hon. Stanley Joel Sacks (JD 1967)
Hon. Joseph Anthony Salerno Sr. (JD 1945)
Hon. Marcus R. Salone (JD 1981)
Hon. Joseph Schneider (JD 1956)
Hon. Anne O. Scott (JD 1974)
Hon. Patrick Thomas Sheedy (LLM 1972)
Hon. Lon William Shultz (JD 1976)
Hon. David W. Slater (JD 1976)
Hon. Kent Forest Slater (JD 1975)
Hon. John A. Smietanka (JD 1968)
Hon. Susan Pierson Sonderby (JD 1973)
Hon. Cheryl A. Starks (JD 1987)
Hon. Frederick James Stoker (JD 1959)
Hon. Jane L. Stuart (JD 1985)
Hon. Michael W. Stuttley (JD 1978)
Hon. Donald Joseph Suriano (JD 1983)
Hon. Brian F. Telander (JD 1976)
Hon. Raymond A. Thomas (JD 1950)
Hon. Lucia Theodosia Thomas (JD 1942/LLM 1943)
Hon. Joyce E. Tucker (JD 1978)
Hon. Joe R. Vespa (JD 1977)
Hon. Charles Glen Walsh (JD 1951)
Hon. William F. Ward (JD 1975)
Hon. Ted E. Wedemeyer Jr. (LLM 1961)
Hon. Daniel J. White (JD 1951)
Hon. Alexander P. White (LLM 1976)
Hon. Willie M. Whiting (JD 1950)
Hon. Robert August Wiedemann (JD 1952)
Hon. George Yonehiro (JD 1954)
Hon. George J. Zimmerman (JD 1940)
Hon. Morton Zwick (JD 1964)
1998
Hon. Harris H. Agnew (JD 1972)
Hon. Cheyrl Delores Ingram (JD 1978)